Last time out we explored the range of challenges and opportunities on the journey towards net-zero – this time we take a deeper dive into the circular economy challenge and consider how 'going circular' forces us to re-evaluate our business models, setting off a chain-reaction that changes everything. Mike Townsend explores four key shifts in search of the 'holy grail' – how we can generate circular business models that are sustainable and profitable, yet also attractive for customers and suppliers.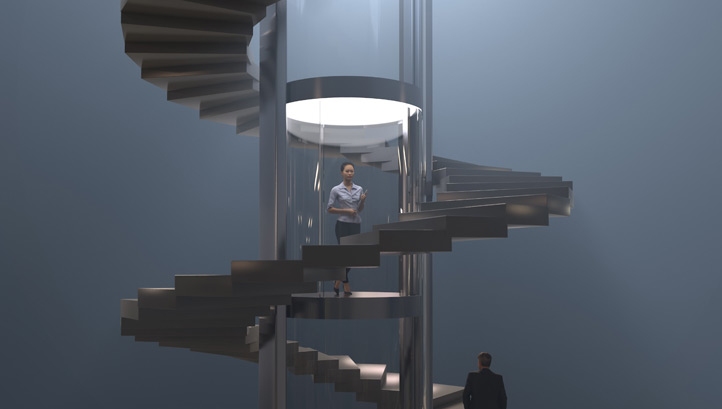 The circular economy is increasingly seen as a pre-requisite for any serious, sustainability-oriented business – especially those dependent on scarce and non-renewable resources.
Engaging with the circular economy is also an important part of our net-zero journey – a potential gateway towards delivering almost half of our emissions reduction targets, if we can harness the opportunity to develop regenerative solutions that drive radical shifts in both sustainability and business performance.
Whilst a seemingly simple and attractive idea, going circular changes everything. We set-off a seemingly unstoppable chain reaction; a sequence of profound shifts, starting with the realisation that, in a circular world, business success is no longer defined by our ability to sell lots of new stuff and maximise profits by exploiting limited, virgin resources.
Instead, we are driven towards optimising sales and profits through selling and re-selling circular products. We take on a very different role in business; we become asset custodians – keeping assets and resources at their highest utility and value for as long as possible, across multiple product lifecycles, and selling products as services – rather than remaining as champions of plunder and profligacy.
This fundamental shift in emphasis cuts right to the heart of the circular economy challenge – we have to completely reinvent our blueprint for how we make money. And so, the business model becomes the engine room for circular economy innovation and, ultimately, the route towards sustainable business success – as we strive to generate circular business models that are sustainable and profitable, yet also attractive for customers and suppliers.
Through this great reinvention, we find major shifts in each of four primary elements within our business models: going circular means a new relationship with the customer; new innovations in product design, materials and sourcing; new business processes and infrastructure; and a profoundly different profit formula. From this point, everything changes – and we have to be ready to adapt.
So, how can we crack the code for circular business model success?
Customers – for life
Fundamentally, we need an entirely new relationship with our customers; no longer short-term and transactional in nature, we need to embrace longer-term relationships, nurtured through selling more durable, longer-lasting products that we can maintain and upgrade, and which can be returned and exchanged at the end of each useful product life.
While many circular economy programmes are in their infancy, customers seem to be responding well, warming to the idea of more sustainable, circular products – so long as it is convenient for them.
'Circular non-engagers', the largest category of customers, are especially unreceptive – they need non-environmental incentives to change their buying habits.
While 90% of European shoppers are willing to change behaviours in the name of sustainability, they can only choose from what is offered by companies. And, given that habits tend to drive many of our buying behaviours, most customers will need help in making more discerning choices, towards more sustainable and circular shopping and lifestyles.
There is much work to be done in closing the circularity gap: this will require a more proactive approach when engaging with customers – developing an attractive and accessible circular dialogue, demonstrating how circularity and long-term value work for the customer. "Many consumers might not know what a circular economy is and the broader relevance in their lives," according to Anne van Riel, ING's head of sustainable finance in the US. Businesses need to go much further, engaging and leading customers towards new, circular consumption lifestyles.
H&M has been dipping its toes in the waters of circularity for some time: a tentative pioneer in the early days, by our calculations, they have advanced from around 6% circular in 2015, towards 15% circular by 2019. The fashion brand still has a long way to go, but progress has been way better than the cumulative performance within its sector, where less than 1% of clothes are currently recycled into new garments.  
Effective customer engagement forms a key part of this necessary shift. Initially, customer engagement on circularity wasn't particularly visible within many H&M stores. For even the most dedicated of sustainability-minded customers, who knew?
More recently, H&M's approach is developing into a much more visceral customer experience. H&M is now taking the plunge – in full sight of customers – with its 'Looop' recycling machine operating in clothing stores for the first time. Customers are able to bring in old knitwear to be turned into a range of items, including women's jumpers, baby blankets or scarfs, within a matter of hours. Initially trialled in Stockholm, a wider roll-out of 'Looop' is expected, quite soon.
Investment in this primary shift yields a long-term prize; customer relationships in a circular world are for life – well, product life, at least. And, if we play our cards right, for multiple product lives, too. This experience goes way beyond any conventional notions of brand loyalty – the potential of which should not be underestimated.
Harness supply chain innovation
Armed with a deeper understanding of how a circular value proposition can work for the customer, we can go deeper into product design and specification – mindful of the need for more durable, longer life products, take-back options and refurbishment – along with the inevitable impacts on the materials and suppliers we use.
Going circular is an important part of Electrolux's net-zero journey. The global household appliance company has developed a new 'circular initiative' in association with Stena Recycling, leading to the launch of a new vacuum cleaner – based on one its most popular models – produced from 100% post-consumer recycled resources, including plastics and components harvested from previously used machines of a similar type. Circularity cannot be achieved in isolation; collaboration with the supply chain was essential for the success of this circular innovation.
The outdoor industry is also rising to the challenge, exploring the opportunity for supply chain innovation and product take-back – following the trail blazed by pioneers like Patagonia.
Design teams at The North Face have started to substitute virgin synthetic materials with recycled synthetics. Their ThermoBall quilted jackets are now made entirely from recycled materials – immediately reducing product carbon intensity by 25%, with potential to achieve a further 75% reduction in carbon footprint. This work, naturally, leads to a renewed focus on supply chains, where material production accounts for 60-80% of any specific product environmental footprint.
Rethinking the supply chain will also mean radical changes in the type of suppliers required, in terms of specific capabilities and their geographical distribution. Can our existing suppliers 'stretch' their current abilities far enough to meet new, more demanding requirements for circular innovation – or, do we face a circular capability gap? Do we need to approach new markets, and develop different types of suppliers? It's all up for grabs, but one thing is clear; we cannot expect to continue with a sourcing strategy configured for yesterday's business.
Investment for new infrastructure
Circular product innovation creates a further impact on business infrastructure. We need an entirely new way of dealing with the product lifecycle, after the initial point of sale; whether making repairs, or taking back old products at the end of their first (or second) useful life, we need new circular infrastructure.
As part of its commitment to becoming fully circular and climate positive by 2030, IKEA urges us to give our furniture a second life, launching its Buy Back programme on the so-called Black Friday discount day – providing a potentially potent antidote on a day that has become synonymous with mass consumption. IKEA plans to buy-back furniture from customers – items previously bought from IKEA – to re-sell as second-hand products. This move, of course, requires changes and investment in new infrastructure – both online and physical.
Customers are invited to go online and submit an offer request for consideration by IKEA. This process auto-generates a preliminary offer in line with an appropriate condition/price banding. The customer then travels to the returns desk at their nearest store to exchange their used items for IKEA vouchers to spend in store. Returned items of used furniture are put on sale in dedicated areas within IKEA stores and anything that cannot be sold will be recycled.
Looking at the big picture, we can appreciate how going circular also generates a shift in the distribution and locations of business infrastructure. Ingka Group (the largest of IKEA's store franchises) has recognised the tendency towards re-localising refurbishment facilities in regional clusters, enabling an efficient flow of products between stores, local customers, refurbishment workshops and recycling facilities. For the ease, convenience and cost, facilities need to be relatively close and interconnected.
Of course, when developing new strategies, we can't expect that ready-made supply markets for circular product repair and refurbishment already exist, and certainly not at the scale required by many large enterprises. As Ingka Group's chief sustainability officer Pia Heidenmark Cook admits, "there's not enough recycling stations or companies in place for us to achieve what we want to achieve… We don't have refurbishment capacity everywhere around the world so (we are) building up these networks."
Presumably, the development of new infrastructure and supply chains forms a significant part of IKEA's €3.2bn sustainability investment programme, balanced with a suitable, holistic business case.
This leads us to the most fundamental shift of all: the profit formula.
On the money
It's time for commercial innovation, and then some. Essentially, we need an entirely new profit formula – one that is circular, sustainable and profitable, yet still attractive for customers and suppliers alike. This represents the holy grail for circular business success.
This, arguably, represents the hardest challenge within our business model re-design – and, it's probably fair to say that not many businesses have fully addressed this issue, yet.
Immediately, we face a choice: Do we sell circular products for their full price at the point of sale, or do we rent them out, gaining income over time? This presents a dilemma for any business; if we choose to sell products immediately, we maximise short-term income and profit, but we might have to accept sub-optimal circularity. Once a product is no longer within our ownership, our influence over its future life and potential for re-use can be rather limited. We have to live in hope, relying on the owner-customer to keep the product at its highest level of use, and ensure multiple useful lives. Remember, the path of least resistance – we need to make circularity easy for people, or it doesn't happen. As such, we might call this commercial arrangement, semi-circular.
Or, do we choose to sell circular products as a service – whether through leasing or subscription models – where we retain asset ownership and greater influence to drive long-term circularity, although this means we no longer generate the full cash sum at the point of sale. Instead, we are forced to spread income through the life of the asset, resulting in the need to fund upfront costs, coupled with a longer timeline for recovering our costs. Our cashflow model is entirely different, requiring a deep understanding within internal finance departments and, externally, within our banks, lenders and investors.
So, we can begin to appreciate how shifting towards a circular-leasing model can be a real struggle, especially for incumbent businesses that have become so used to commercial success through selling lots of new, full-priced products. It will take a brave and foresighted business leader to kill the 'golden goose' and make the complete shift towards a new, circular business model.
While a complete shift towards a fully circular profit formula presents a challenge for incumbents, this is where the market disruptors start to excel – unencumbered by historical baggage or legacy business expectations – they can engage in bold thinking, and even bolder action.
Enter, Beleco – a Nordic online furniture retailer with global market ambitions. Beleco has developed an innovative circular economy business model for the commercial and home furniture markets. Their model is all about renting-out high-quality, long-life circular furniture products via an impressive online platform, built on an entirely new industry infrastructure and circular market ecosystem, incorporating key sustainability considerations and product lifecycle management. Beleco aims to transform the furniture industry and help create a more sustainable society in the process.
In furniture production, the lion's share of resources, energy, emissions and environmental impacts are experienced during the manufacturing phase of product lifecycle. Quite simply, if we avoid new production, through keeping high-quality products in use, we reduce the need to exploit new resources and energy, and we reduce the scale of greenhouse emissions arising.
Imagine a circular Beleco sofa, designed and manufactured with a design-life of around four times the duration of a conventional linear-economy sofa. This means we can get four useful sofa-lives out of one sofa's worth of resources – an effective saving in demand for three complete packages of new resources and energy, and associated carbon emissions. And, a significant reduction in waste and adverse environmental impacts.
Furthermore, new resources, energy and waste all cost money – so, we're also avoiding the need for new and, arguably, unnecessary resource expenditure. This means the total asset-life cost of one high-quality, multi-life rental sofa is much lower than the total cost of producing the corresponding number of new, short-life products that end up being discarded at the end of each of their initial single-use life-cycles.
This situation, therefore, provides the opportunity for greater value to be captured and shared across the longer asset-life of a circular product. And, this is the effectively the secret sauce of the Beleco model: With less money spent on unnecessary resources and waste, the result is that more 'value' can be shared between customers, Beleco and its furniture producing suppliers.
For the customer, this means a very attractive price point – paying around 25% less than the cost of buying an equivalent linear-sofa, over the full rental term.  And, further benefiting from flexible lifestyle options, and no longer having to worry about the responsibility of disposal.
This model is also highly beneficial for the furniture producers, who – given their ongoing fair share of rental income – are able to make more money through the entire asset-life of the higher-quality, multi-use long-term product; more than they would from fabricating a one-off, shorter-life product. This is great news for long-term income, but does present a challenge in the short-term, concerning the impact on the cashflow curve, which has to be managed with support from understanding banks. Banks, of course, then need to revisit their own business models and lending criteria.
Codebreaker
Beleco appears to have cracked the code: they have built a circular value proposition that is sustainable and viable, while also attractive for customers and suppliers alike. The key to this success is all about extended product lifecycle, enhanced resource utilisation, with less money tied-up in resources and waste, enabling more value shared between customer, producers, and retailer. They demonstrate what fully-circular commerce can look like, moving from wasted value to shared prosperity.
It's not too surprising, therefore, that Beleco has grown its subscription service by 1600%, so far, this year – and, with an ambitious expansion programme, including London in 2021 – incumbents will need to step-up their own commercial innovation efforts, if they are to stay relevant.
To crack the code, we need the full package – a complete redesign of the business model. And, not only do we need to undertake the necessary shifts in each of the key elements of the business model, these changes also need to fully-align and work with each other; we need to link product innovation with a new customer relationship, supply chain innovation with product design, new infrastructure with product lifecycle management – and, fundamentally, develop a viable profit model aligned with circular product design. This is where the battle for circular business success could be won or lost.
Of course, making such radical commercial changes can be difficult, especially for those organisations working under pressure to maximise short-term earnings. It's certainly a difficult, but not impossible line to walk; balancing short-term needs, while still investing for long-term success. At this time of crisis, can businesses afford to invest in innovation?  Can they afford not to? During this time of great disruption, if we stop moving forwards, we are dead.
Make no mistake, not every business will make the necessary transformation – many incumbents will find themselves over-taken by new, market disruptors, unless they engage in real innovation, rather than the illusion of change.
A big prize is there for the taking, if we get it right: more meaningful, long-term relationships with our customers, helping them live more circular and sustainable lifestyles; a more relevant business model, yielding long-term income; reduced business risk; and all delivered with a radically lower footprint.  If we fail to transform, we will become the next stranded asset.
Fortune favours the brave.
—
Mike Townsend is founder and chief executive of Earthshine Group, and author of The Quiet Revolution (Routledge, forthcoming).
This article was originally published on Edie.net
Follow Mike Townsend on Twitter.